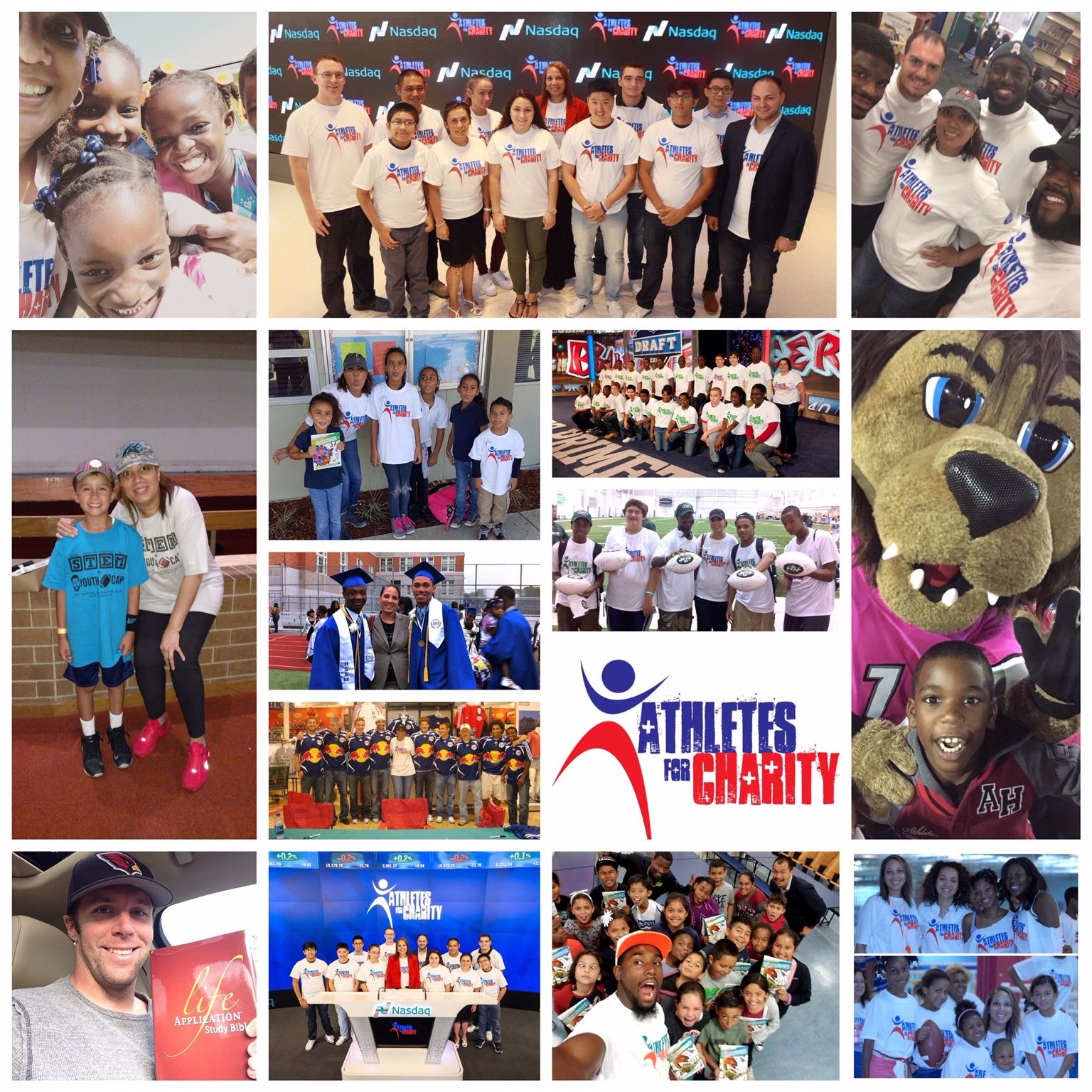 Dear Friends of ATHLETES FOR CHARITY:
2019 marks our 15th Anniversary of partnering with professional athletes, teams, leagues/associations, corporations, school districts and individual schools, and so many donors and volunteers to benefit underprivileged and disadvantaged youth across America.
I would like to ask you to help us raise $15K+ to support our programming for youth for this year.
What have we accomplished over the years?
In 2004, we started the org with the support of NFL players in an effort to benefit foster care youth in NYC through Back to School Book Bag Giveaways and Holiday Gift Distributions.

We went on to host unique football camps, with an educational focus, for NFL Players such as Ryan Sims (Spartanburg, SC), Ovie Mughelli (Charleston, SC), James Lee (Belle Glade, FL), Corvey Irvin (Augusta, GA), Don Carey III (Detroit, MI), Kawann Short (East Chicago, IN), George Selvie (Pensacola, FL) and our STEM Squad (Kevin Pamphile, Keith Tandy, Andrew DePaola, Alterraun Verner and Clinton McDonald) (Tampa, FL – home of the Tampa Bay Buccaneers).

We have delivered over 100,000 books to youth in partnership with players such as

Alterraun Verner, Michael Thomas, Brandon Copeland, Kawann Short, Ryan Lindley, Jason McCourty, James Ihedigbo, Darrell Stuckey, Nat Berhe and many more.

We have donated over 1000 bibles through social media outlets with players such as Alterraun Verner, Kevin Pamphile, Don Carey III,

etc.

We have created STEM + Literacy and/or Mentoring Programs or Initiatives in cities such as Brooklyn, NY; Detroit, MI; East Chicago, IN; and Tampa, FL, supported by various athletes and/or teams and corporations such as the Ford Motor Company, Tata Technologies, etc.

Players such as Kevin Pamphile, Jermon Bushrod, Travaris Cadet, Visanthe Shiancoe have helped us sponsor back to school and educational events for hundreds of youth in Haiti over the years.

We have sponsored 1000s of youth to attend sporting events and other theatrical or cultural events, and concerts thanks to our partnership with Tickets for Kids, etc.

We rang the closing bell at NASDAQ in 2007 and again in 2016. We hope to ring it again in 2019.
Please consider making a donation from any of the following increments of "15" to help us celebrate our 15th Anniversary by hosting many events throughout this year: $15, $115, $515, $1015, $1515. You decide! No donation is too small and I hope you will answer our call to help us raise $15K by June 2019.
Please feel free to check out what we have been up to by visiting our social media outlets:
Web: www.athletesforcharity.com
Facebook: www.facebook.com/AthletesForCharity
Twitter: @A4C_Athletes or @A4CSTEM
Instagram: @A4C_Athletes and @AthletesForCharity
Email: info@athletesforcharity.com
Thank you for your continued support of Athletes for Charity over the years!
In God we trust!
Cathleen Laporte
President
Athletes for Charity
Donate via Credit Card or eCheck
FAQ
Is my donation and credit card info secure?
Yes, the security and confidentiality of your information is our highest priority. We will not sell, trade or share your personal information with anyone else, nor send donor mailings on behalf of other organizations, and we will only share personal information if you have given us specific permission to do so.
Is my donation tax deductible?
Yes, we are a fiscally sponsored project of United Charitable , which is a public 501c3 organization recognized by the IRS. Your donation is tax-deductible to the fullest extent permissible by law.
How do I know that my donation was made successfully?
You will receive an emailed receipt immediately after your donation is submitted and your credit card is processed. Your donation will also show up on your bank or card statement within 1-3 business days.
Do I get a receipt?
Yes, a receipt is sent to your email inbox once your donation is processed. Please be sure to keep a copy of your receipt for tax purposes. If you select a recurring donation, you will be sent an individual receipt each period when your donation is processed.
Is my donation private?
We will not share or sell a donor's personal information with anyone else, nor send donor mailings on behalf of other organizations.